Looking for the best bathroom exhaust fan to replace one that has either run its course, makes too much noise, or simply isn't getting the job done? It's amazing how far modern technology has come even just over the past few years in the way of improving the power and efficiency of exhaust fans. As you search for the ideal bathroom exhaust fan replacement, keep in mind that some of today's best bathroom exhaust fans use humidity sensors, consume less energy, and do it all while making the least amount of noise. Here are some tips for looking for the best model for your new fan: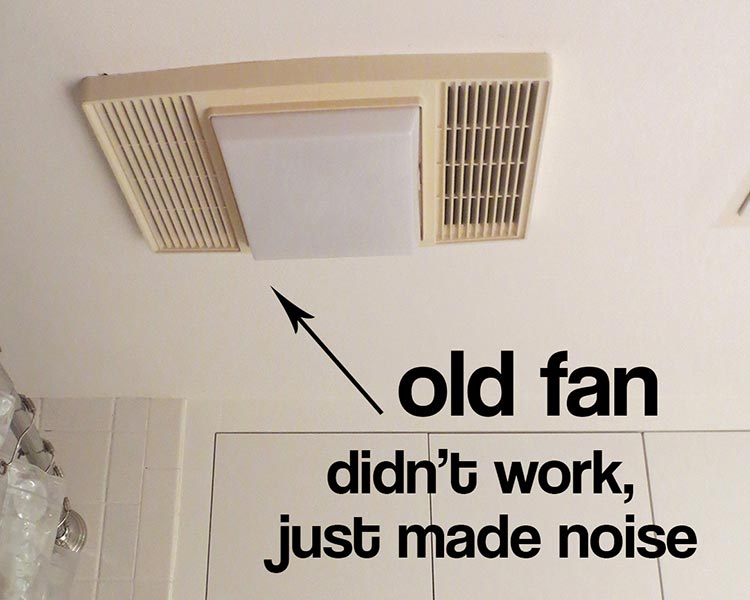 Look for the Strong, Silent Type Bathroom Exhaust Fan For Replacement
Usually this terminology is used for describing men who exude power and confidence through a determined silence, but it is also a way to remember the best qualities to look for in your bathroom exhaust fan. Today, fan speeds max out at around 380 cfm (or cubic feet per minute, referring to how much air the fan is able to move). Compare this with just a few years ago when the maximum speed was more like 100 cfm. These fans have come a long way in a short amount of time!
You will want your replacement fan to be able to move a lot of air, but don't pay more than you need to. If the average bathroom size is 100-200 square feet, you'll only need about 70-100 cfm to get the job done. It would be silly to break the bank on a 300 cfm fan if it isn't necessary.
The Home Ventilating Institute (HVI) produced a formula to help buyers determine exactly what size fan to look for according to the size of their bathroom, and it goes like this: If, for example, your bathroom is 10 feet wide, 10 feet long, and the ceiling is 8 feet high, you will multiply 10 x 10 x 8 which will equal 800 cubic feet. Then, divide this number by 60 minutes for one hour of use (800 / 60 = 13.3). Then, the HVI would have you multiply that number by 8 air changes per hour, which is what your fan should achieve for maximum quality. In this case, 13.3 x 8 = 106.7 cfm, which is the minimum cfm you should be looking for when you purchase your fan.
Some of the leaders among the pack among these strong, silent types would be the Panasonic WhisperCeiling family, particularly their 110 cfm model. Another would be the Broan QTXE080 Energy Star model.
Go Green
Another important factor in looking for the best replacement fan is energy efficiency. Fans with brushless direct-current (DC) motors are a popular choice in this category, since their motors are smaller than that of the conventional fan and use up 80% less energy. The lack of brushes in the motor eliminates a significant amount of friction, which is what makes these fans tick. Many of these fans are variable speed models, so you can adjust the speed rather than just having an on / off switch. It gives you some added flexibility. In addition, these brushless motors produce less heat, which ultimately prolongs their life span. While the conventional motor will typically last 15 years, you can add an extra 10-20 years onto that figure when you buy a brushless DC fan.
Popular models in this category are from the DeltaBreez brand. And as a rule of thumb when looking for an environmentally-friendly fan, look for that Energy Star rating on the label.
Choosing the best bathroom exhaust fan replacement for your home is essential. You want it to last as long as possible and get the job done while reducing cost and energy consumption. These tips and models should help you in your search as you find what's right for your home.